Here in Mayotte, at the end of the year, each elementary school has a big fête, the highlight of which is every class performing a dance (I would say that it is always traditional, except I heard Shakira played at the one I attended) in their assorted costumes. My neighbor, Sakina, asked me to take pictures of her daughter. Once there, she also asked that I photograph her niece and a friend's child. Then other neighbors and sisters of neighbors saw me with the camera and it was snap, snap, snap. Bless digital cameras...





Florine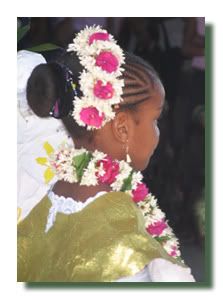 This is a typical hair decoration for fêtes, but of an evening, many women like to wear jasmine in their hair.
The "stage."
Soraya, another neighborhood girl. The circles on her face are done with powdered sandalwood, which women of the Comoros use as a beauty mask and sunscreen. The usual way of wearing the
msindzano
(literally sandalwood in Shimaoré) is smeared over the whole face or cheeks, nose, and forehead. But when it is considered "make-up" or for a party, they do artistic designs like Florine and Soraya are wearing
.