To many, this photo probably speaks of summer. Hard to imagine it is winter here and relatively cool. Hard to imagine humidity is no longer sticking clothes and hair to damp skin.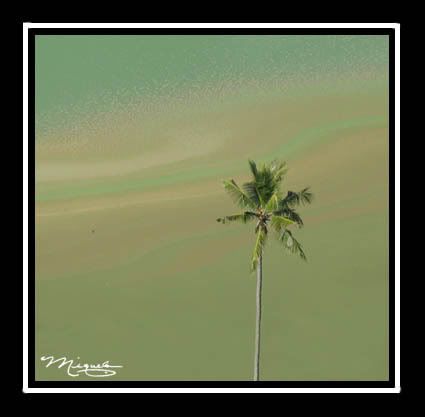 Green how I want you green.
Green wind. Green branches.
~Federico García Lorca (1898–1936)

This is a view from the crater rim of Lake Dziani. I took it in May when
mana_trini's mom was here. That morning, there was an odd film on the water along the shore, creating the green and brown striated effect. Just looking at this picture makes me want to hike around the lake again. It's my favorite place on Petite Terre. I've seen so many cool things there besides the gorgeous views: colorful birds, lizards, geckos, land crabs, flowers, seed pods rattle-singing in the breeze like rain on wind-tossed leaves, even a dessicated baby eel, dropped by its captor.
Maybe tomorrow morning...