First day without Internet: Read Bradbury's From the Dust Returned. Went out on the boat. Swam with dolphins. Or rather, saw a pod, jumped in the water with them. Eight surged out of the murky blue, their high-pitched squeaks all around, and then, with a concerted flick of their tails, disappeared, begging us to give chase. Got back in the boat and played with them by motoring around. Leaps and twists and flops galore. Hopefully, now that the pc is up and running again,
mana_trini will upload the video of it. </lj>Went to a party. Actually decided to be charming and had fun.

Second day: rugby x3; necklace x 1.5

Third: Rearranged and organized office; sorted wood for crafts. Fished for calamari; caught two. Jasmine petals, candles, white-chocolate massage lotion... Um, not for me. For Julien. Yeah, I'm a nice wife like that.

Fourth: Morning walk on the beach. Cooking! (Sausage Rougail, spicy tomato relish, mango chutney, mango ice cream.) Helped Julien make a dining table. Finished 0.5 necklace from Day II. Rugby. Started a bracelet.

Fifth: Morning walk on the beach. Made papaya jam. Did laundry; made two cushions. Finished bracelet; made a pair of earrings and a necklace (not happy with it). Still reading The Hunchback of Notre-Dame, still slow going, but I'm making progress despite the book being only bathroom reading. Just hit a huge Dickensonian coincidence. Ah, the things writers used to get away with.

Sixth: Phone call from mil, who said her flight had been delayed a whole day. Tried to fix blah necklace. Made it passable, but it's not something I'd buy for myself. Made two pairs of earrings and another necklace. Watched a lot of crap television while making said jewellery. Cleaned the windows. Did tons of laundry; ironed and re-hung clean curtains.

Seventh: Wrapped (with wire) about a dozen sea-polished shells. Played a couple of grids of Sudoku. Bought fabric and made cushion covers. Laughed and joked around with Julien. Read a few pages of Notre-Dame. A rather lazy day since the m-i-l was supposed to arrive and didn't.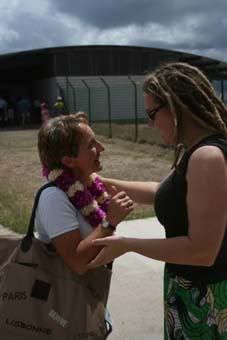 Eighth: Cleaning! Can't have a messy house when the m-i-l is coming (not that it was messy anyhow). Julien went spearfishing; brought home two huge groupers. Picked up m-i-l, went grocery shopping; watched rugby. Started making the Cinnamon Roll Cookies from
theblackoven 's blog.</lj>
Ninth: Fruit, vegetable, and handicraft market in Coconi on GT. This is the market where I want to sell my goods. It comes around only once a month, and the next one I can participate in falls on the first of Nov. Hope I have enough stuff ready by then. I'm seriously lacking in materiel. L After the market, bought a grilled chicken and ate it at a picnic area overlooking the bay just outside of Sada. Got home in time to finish the cinnamon cookies and eat them (delicious. Will def make again. Hopefully they'll be prettier the second time around) during a game of Scrabble. Watched rugbyX2. Between games, made banana ice cream.
Tenth: Julien had to work, so the mil and I took a morning walk up the Vigie to the lookout point. Came home with a 15-pound sack of mangoes, fresh off the tree. Picked up Hervé (friend from la Réunion) at the airport and invited him over for lunch. That afternoon we went to Moya II Beach. Tried to start Shadowbridge, ending up visiting with mil instead. Had a cup of tea upon returning to the house. Were joined by the curious landlord.

11th: Julien dropped mil and I off at the base of the Dziani crater on his way to work. The green of the lake was stunning, as usual. While walking the rim, we saw a whale on the ocean side, not in the sulfurous waters of the lake. *g* She leapt and leapt, all down the coast until she disappeared behind the point of Petit Moya. Even when she was right in front of us, my mil thought it could be a dolpin, so far away was she. It wasn't until I pointed out the whale's size in relation to the boat tracking her that my mil believed me. Being that the whale was so far away, all my pictures are rather disappointing. That's what I get for not taking the correct lens. :(

We hiked to the Belvedere de Moya, and headed back home through manioc fields, down gullies, up the Vigie and back down through immigrant shacks and rank, sloping lanes that resembled giant gutters. Went to Moya in the afternoon with mil and J. Played Scrabble and ate fresh cookies. Ah, the beauties of being able to freeze your cookie dough.
12th: Morning walk around the towns of Petite Terre (Labattoir and Pamandzi). Stopped at the fabric store, stopped by the electricity guy who wanted to know if a) I'm married, b) we had gotten the mess straightened out (which it's not certain that we have), stopped a second time by him (yes, Petite Terre is petite) so he could express a wish to maybe go out on the sea with Julien and me. Hmmm.
13th: Off to Reunion Island. Another post altogether!

*sigh* I had some pretty pictures to share of Dziani and the Moya beaches from the belvedere, but my pc is acting up. I'm going to have to reboot and see if that doesn't solve the problem. I'll post this bit for now so it doesn't get lost.