So, a little less than a week ago, I added another year to my count. I'm creeping on up there, let me tell ya. Julien "kidnapped" me Wednesday night--yes, the same day as my seasick episode. :-/ but I was feeling better after a siesta--and took me to a bed and breakfast on Grande Terre.

Suppers at the Gîte du Mont Combani are convivial affairs, and the guests all eat together at the same table. We started with papaya soup, followed by rougail saucisse (sadly for the restaurant experience, Julien's is *much* better) with gratin au betsaï (kind of like Chinese cabbage). The gratin was good. We had a banana dessert that I don't know the name of. :P All in all, aside from the delicious breakfast breads and homemade jams, the food was not up to par. However the bungalows were charming and the grounds were beautifully landscaped, giving me the opportunity to...yeah, you guessed it...turn my birthday into a photo safari. Because I have quite a few pics to share, I'm going to break the posts up by subject.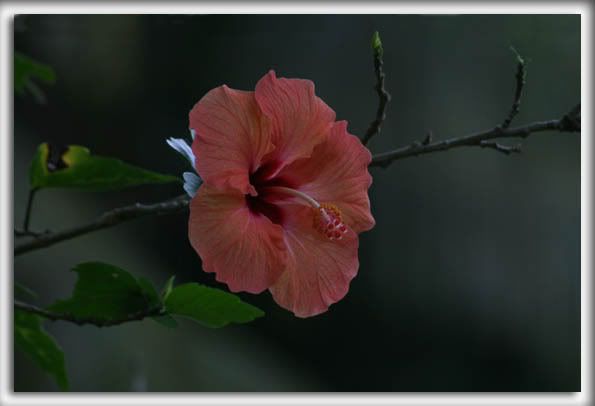 The cool touch of dawn on a hibiscus flower
rose de porcelaine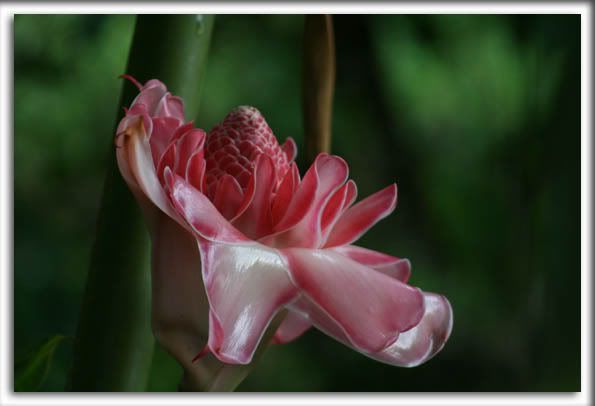 And another because they are just so interesting with their fleshy, shiny petals. I had such a hard time forcing myself to post only two. :P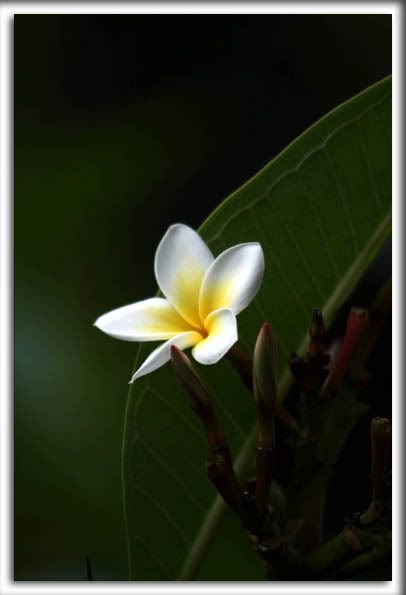 Oh, frangipani, how I love your heavenly scent and simple beauty!
Orange blossom special. Maybe. I think. I didn't really look to see what the tree was. I was too captivated by the gorgeous light and delicate perfume. But they were citrus flowers of some sort. ;)
One French garden guidebook calls these "Tears of the Virgin." I wonder if they are related to the "porcelain roses" above. The foliage is very similar, as is the texture of the petals. I'm curious enough to wonder but too lazy to look it up. :P
Passionfruit flower. One of the coolest flowers ever, I think.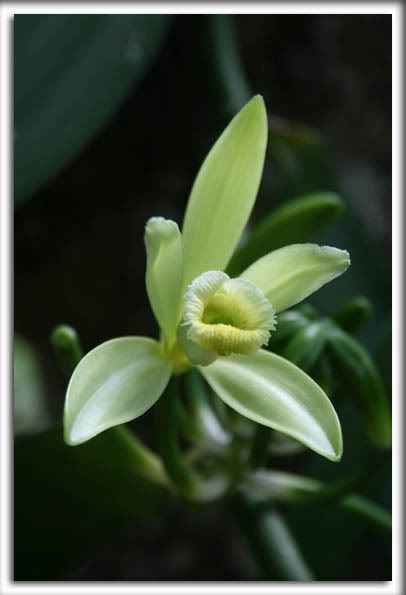 Vanilla orchid
These pretty blue flowers reminded me of one of
learningtoread
's icons. :)
And lastly:
I think this is called a bird of paradise flower. Yeah, I know. I should look it up. Lazy me. But whatever, I'm here to give you pleasure for your eyes, not educate you. :P